eFront offers a native integration with the OpenSesame marketplace to let you search for and purchase professional courses directly from inside your portal.
To make the most of your eFront-OpenSesame integration, first, take a look at our brief guide:
A. Browse
As soon as the eFront-OpenSesame integration is enabled, a new Add from marketplace button is added to the Home > Courses page.
Click it to go to the OpenSesame-powered LMS Course Marketplace.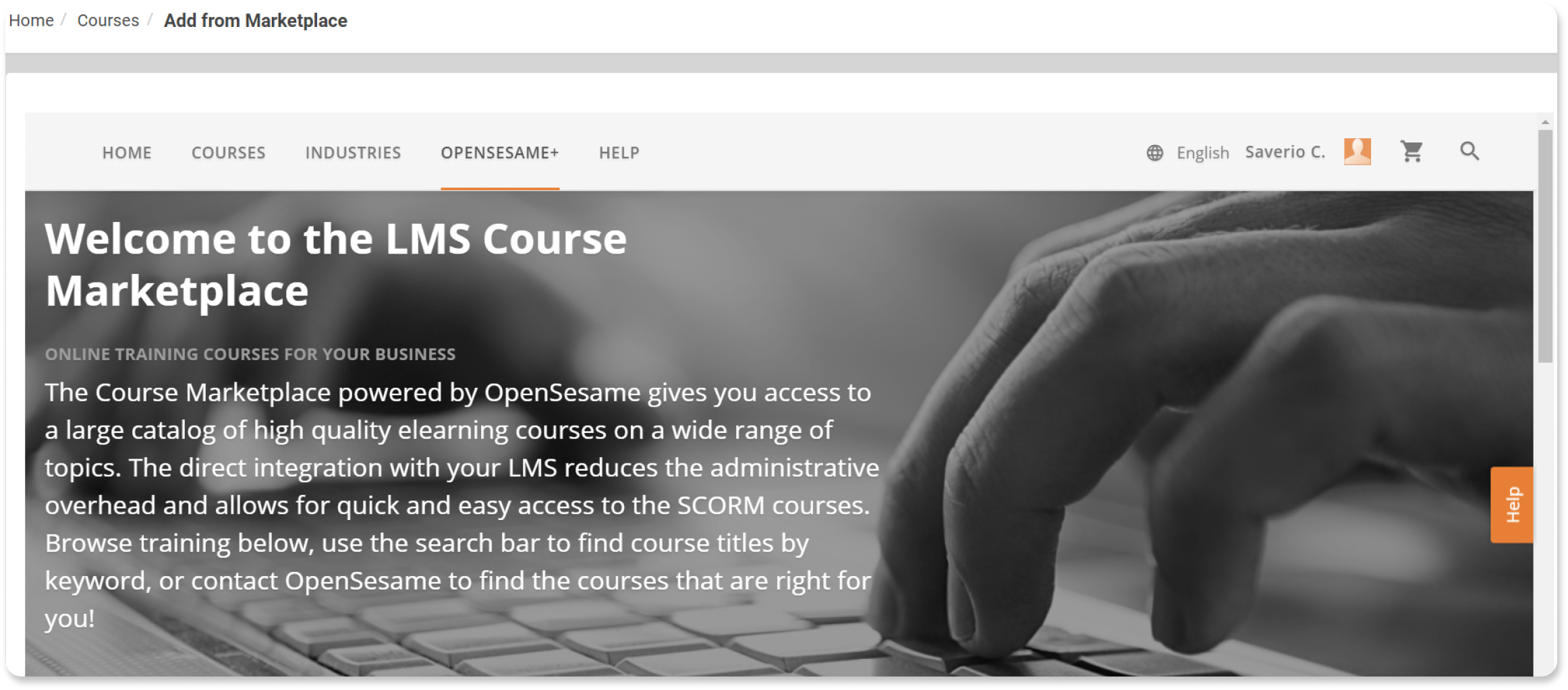 On the top navigation bar, click Courses (1) to browse courses by category, Industries (2) to browse by industry or Opensesame+ (3) to access the OpenSesame Plus Complete course catalog.

B. Select, buy and sync
On the Courses page, scroll to the bottom and click Browse all courses to see the full course catalog. Browse around or use the left-hand filters panel to customize the course list and click the check symbol (1) on any course you want to add to your current selection.

Click Actions and choose Add to List to bulk-add the selected courses to a new or an existing course list. When browsing courses by category or industry, you have to click the list symbol on a course to add it to a new or an existing course list.
When you click to add one or more courses to a list, a dialog box pops up where you can choose to either Create New List or Add To Existing List.
Add as many courses as you need to your lists to organize your OpenSesame activity and sync or remove courses in bulk.
To purchase and sync a course, go to the course page, choose one of the available purchase options and proceed as instructed by OpenSesame (to add already purchased OpenSesame courses to your portal, see this article).
Note: For courses that are included in your OpenSesame Plus subscription plan, you simply have to select and sync them for a certain amount of users, depending on the seats you have available in your account. If those aren't enough, you're prompted to purchase more seats to add to your subscription account.

After purchasing a course, go to the course page and click Add to Sync Cart (2).

On the pop-up confirmation message, click the Dashboard (3) button to go to your Sync cart.

Click Sync (4) to send all the courses listed in your Sync cart to eFront.
When syncing is complete, a message confirms that "Your lessons were synchronized successfully!" and you're taken to your eFront portal.
Go to the Home > Courses page, where you can confirm that your new courses (5) have been added to the course list.
Then, go to the course page in eFront. Your synced course includes a single SCORM content unit that's titled the same as the course.