To add content to an empty course, visit the course and then go to the course's dashboard (1).
Note: When adding or editing the course image, in the 'Properties' tab, consider that the ideal size of it is 440x280 pixels.
Initially, you shall see that there is no content added to the course. To start adding new content you can use the shortcuts that appear in the course dashboard when a course is empty (2). You will be prompted to drag and drop files into the content area directly. You can also use the Add unit option. Alternatively, you can use the 'Add content' button (3) and select the type of content you want to add.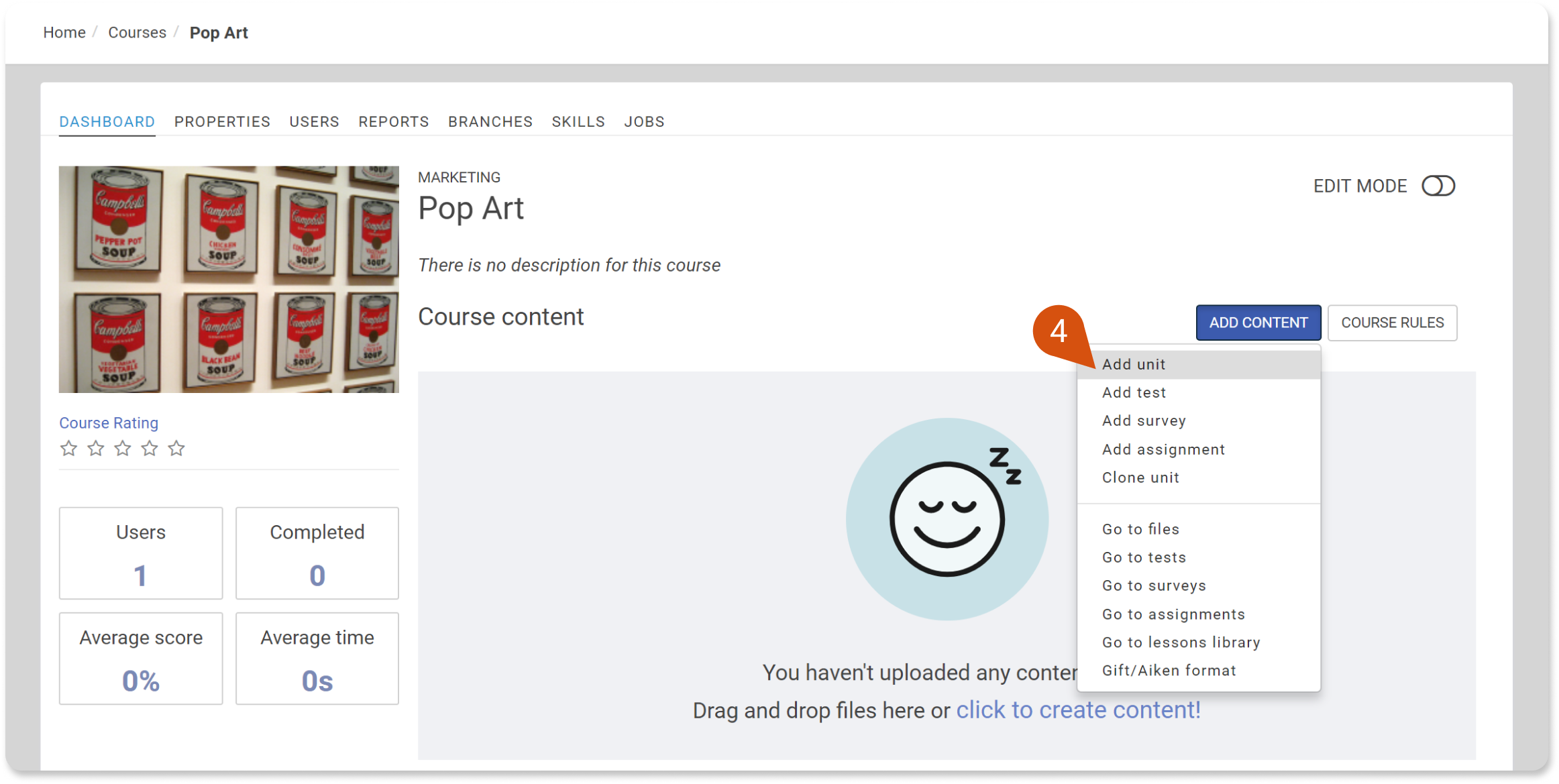 Clicking on the Add content button will open a drop-down menu with all available options (4) for adding a new content to the course. These are:
Add unit - to add a new unit to the course
Add test - to add a new test to the course
Add survey - to add a new survey to the course
Add assignment - to add a new project assignment to the course
More option or ways to add content to the course are the Clone unit option, where you can clone a unit to that course from another course.
To add extra material to the course, such as pdf files, video or audio files, presentations etc you can use the option 'Go to files'. This will get you to a tabular list of all the files available to the course. You can either use the upload button to upload a new file or drag n drop files directly to the page.
Finally, you can add lessons to the new course. Lessons are an abstract collection of units (course content) that help you better organize and structure your course material. Visit the 'Go to lessons' library option (from the drop-down menu that is available from the Add content button), as described in this article.
Initially, you shall notice that there is already a lesson created (the same name as your course) and already assigned to your course. In case you want to create new lessons please follow the instructions provided in this article.