All data that is already created and present in your TalentLMS portal can now be quickly imported into eFront, thanks to the TalentLMS Data Import plugin.
To transfer data from TalentLMS to eFront:
1. Plugin activation
First, you have to enable the TalentLMS Data Import plugin.
The plugin is preinstalled. To activate it:
Sign in to your eFront portal as

Administrator

and click on the

plugin

icon.

Click the Toggle related to the

TalentLMS Data Import

plugin until it becomes green

(1).

If you can't find it, use the search box on the bottom left of the screen and type

TalentLMS
2. Export from TalentLMS
Log in to your TalentLMS account as an Administrator.

Go to

Import-Export (2).
Go to the

Export

tab

(3).

From the drop-down list, choose

CSV (4).

Click

Export (5)

. You will now be presented with all your TalentLMS data in CSV format.
Select and copy all the data to the

Export Result

text box

(6).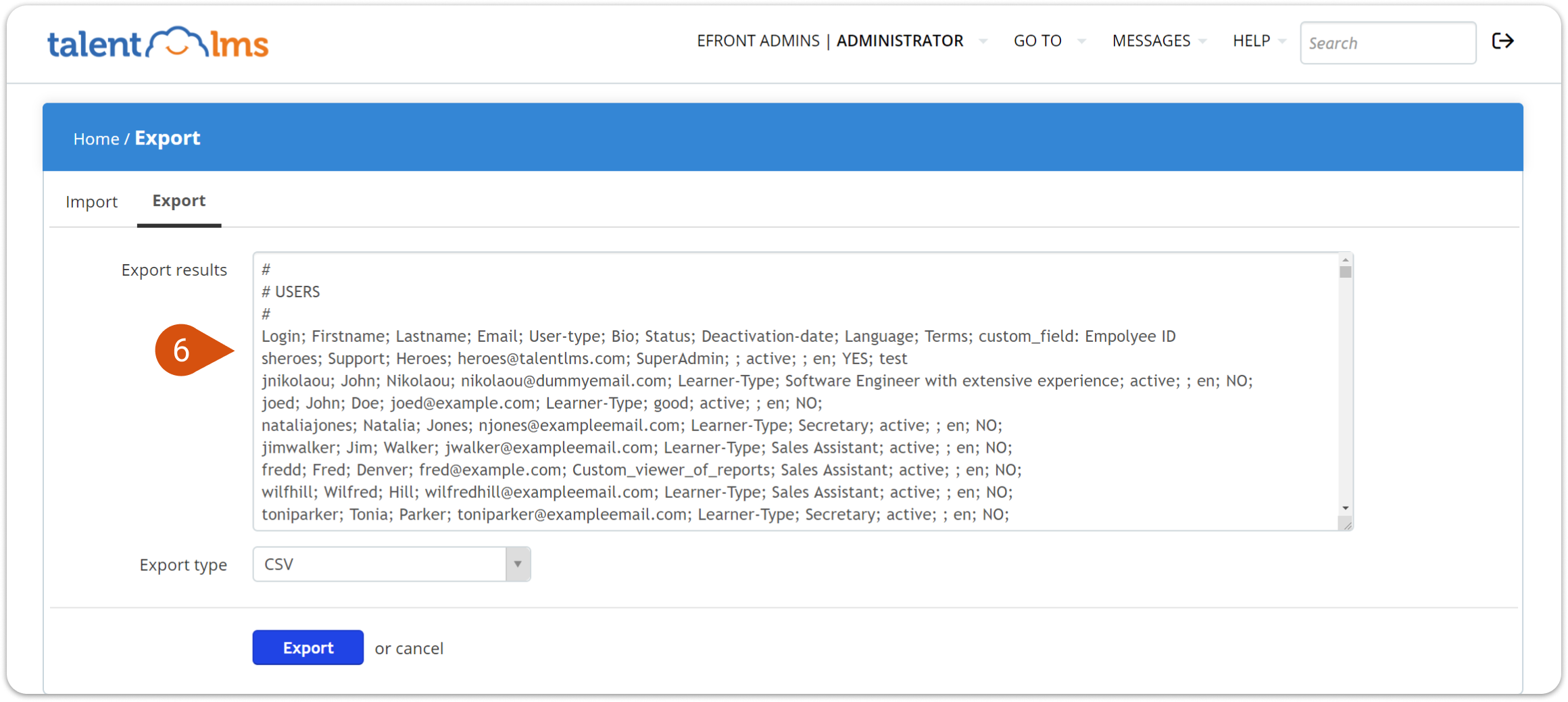 3. Import to eFront
Back on your eFront portal, logged in as an Administrator, you'll see a new icon in the Home page.
Click on it and you'll be presented with a

CSV text box (7).

Paste there the data you copied from TalentLMS.

Select whether you want to Merge or Replace duplicates (they are ignored by default). You can find out more about these options

here.

Click

Save (8)

to confirm the import.
Wait for the data import to complete. You should be seeing the following screen:
Once the process is complete, you will notice that your eFront platform has been populated with your TalentLMS data, e.g., see the newly imported users below: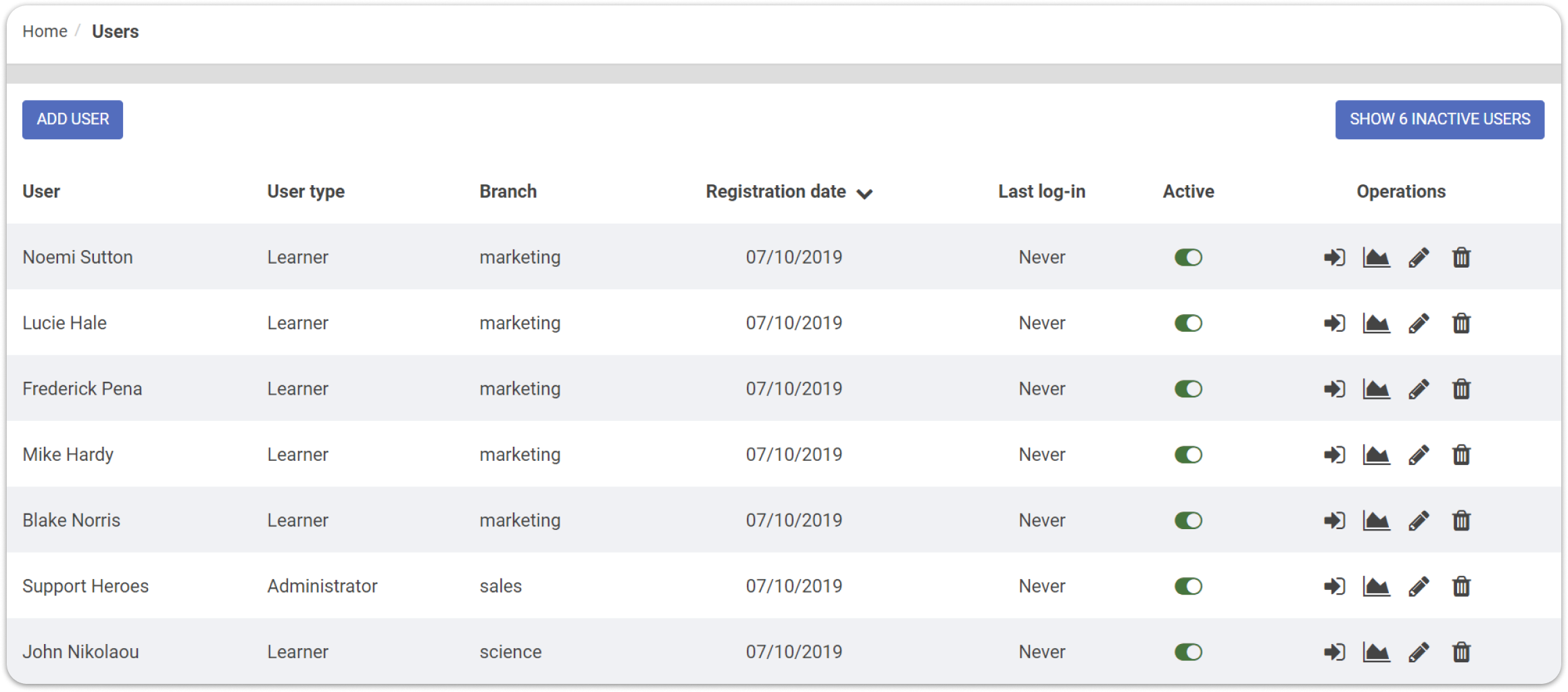 Here is a list of all the data entities that can be migrated from TalentLMS to eFront with the plugin:
Users

Courses

Users in Courses

Groups

Users in Groups

Courses in Groups

Categories

Branches

Users in Branches

Courses in Branches

Custom User Fields

Custom Course Fields
Note: To issue certificates in eFront, including the courses imported with the plugin, you will first need to create and assign a certificate template to the courses that offer a certificate. After the templates are ready, to have all certificates issued for each course in eFront, you can activate the pre-installed plugin 'IssueCertificatesForCompleted'. This plugin will give you the possibility to issue at once all certificates for specific courses, even for all imported courses that are completed.
4. Other types of content migration
Since not all data entities can be migrated from TalentLMS to eFront with the plugin, you might need to import or recreate some content. Below you see some details on how to proceed with the most common content types:
Files that are stored in TalentLMS courses and can be exported: In eFront you can reuse all the files uploaded and present in a TalentLMS Course (except for SCORM/TinCan). To do that, download the files from TalentLMS

(1)

and then

upload and share the files

to have them available in the eFront lessons, or

recreate the units in each

eFront course, according to your training needs.
SCORM packages and VIDEO/AUDIO units: These cannot be exported from TalentLMS, but you can use the original files and/or ZIP packages to import them again in eFront as course units.

TEXT and standard UNITS and questions text: All text or HTML units and test/assignment questions need to be created again using/copying the same text.