Moneyless transactions are an additional way for users to get new courses. A user requests access to a course, and the system or branch administrator decides whether to grant or deny it.
Usually, users submit such requests via eFront. However, the whole process can also be completed through a different medium, outside the eFront platform, depending on the agreement or the payment method.
To enable this option, sign in as system administrator and, from the "System Settings" page, go to the "E-Commerce" tab. In the "Show request access button" (1) section, from the drop-down menu, select whether you want this option to be available "Always" (2), "Never" (3) or only "When there is no other means of payment" (4).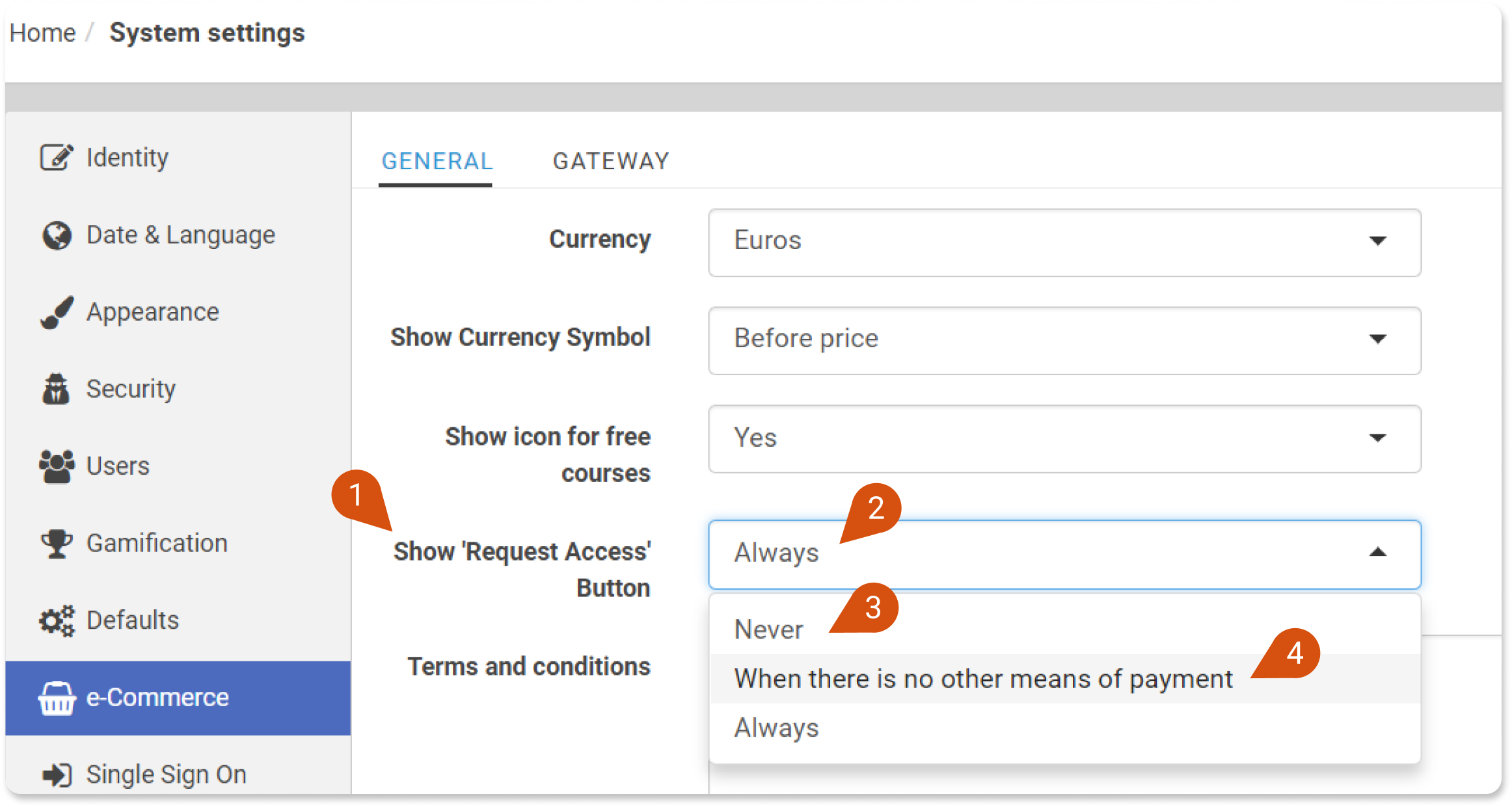 Let's see how this works when you pick "Always" (or "When there is no other means of payment"), and there is indeed no other means of payment available.

A user browses the course catalog and picks a course they are interested in to add to their shopping cart. Upon check out, they get the option to "Request access from the system administrator" (5).

By clicking on this option, the user can submit a request to access the course along with the necessary information for the administrator to make an informed decision.

Once the request is submitted, as system administrator, you are notified of it and called to decide upon granting or denying access to that course.
To view all access requests, older or pending, go to the "e-Commerce > Access Requests" page. From here you can "View" (6), "Approve" (7) or "Reject" (8) a request.

Now, let's assume that, as system administrator, you decide to reject a user's request to access a course. Before you proceed, you are always asked to confirm your decision.

After that, the request's information remains available on the access request list.

At the same time, the user is notified of their request being rejected by an email sent to their registered email address.
The same goes for deciding to grant the user access to the course. You have to confirm your decision, the request's information remain available on the "Access requests" page, and the user is notified by email of being granted access to their preferred course.